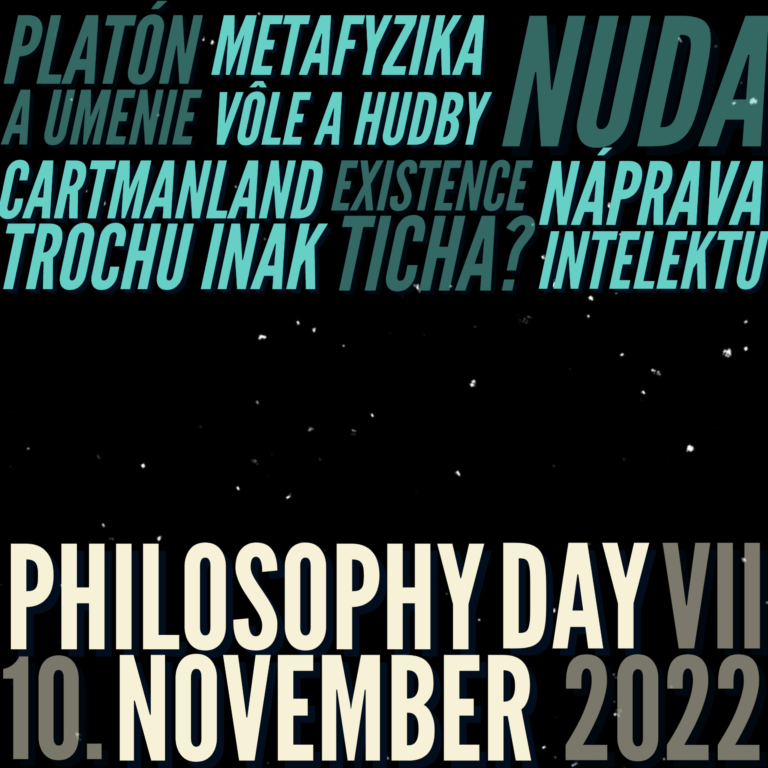 Philosophy Day vol. VII resumes with the yearly tradition of Prešov-based celebrations of philosophy commemorating UNESCO World Philosophy Day every November. 
This year's uniting topic is the relationship between metaphysics and culture.
The aim is to approach the public with reflections on the character and specifics of metaphysics not only as one of the oldest and most radical philosophical disciplines, but also as a considerable cultural influence, and at the same time as a discipline which had always been heavily influenced by cultural and societal dynamics. Throughout the festival, we will try to look for and look at the overlapping of historical and contemporary variations of metaphysical thought into culture and its reflections. 
The intellectual profanity of the topic will be discussed for a whole day with Slovak and foreign philosophy experts. The festival is traditionally located at the original scene of one of Prešov's most treasured cultural centers, Wave at Hlavná street 121.
Everyone is cordially invited!
Full program soon.
In case of interest in performing at the festival (in the form of lecture, text seminar or workshop), you can still contact us (until the end of September 2022) at our email address.
Philosophy Day 2022 is supported using public funding by Slovak Arts Council.